Comings & Goings – Films & Events
COMING NOVEMBER 20
EXPERIENCE THE JOURNEY!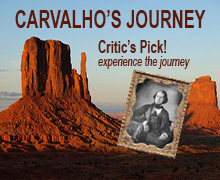 " ... breathtaking ..."
Wall Street Journal
It's a real life adventure story of the American West with a most unlikely character taking center stage. In 1853 Solomon Carvalho, an observant Sephardic Jew who had never saddled his own horse, accompanied the famed explorer John Fremont on Fremont's Fifth Westward Expedition and became one of the first photographers to document the far West. ... more ...
Sun Nov 20, 3:00 PM
Special guest:
daguerreotypist Robert Shlaer
Center for Contemporary Arts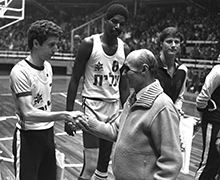 " uplifting and inspiring! "
San Francisco Jewish Film Festival
It was 1977, stunned by the murder of its athletes at the Munich Olympics, demoralized by the Yom Kippur War, and reeling from Entebbe, Israel's underdog basketball team faced the formidable Soviet Union Red Army Moscow team in the European Championships.
Sat Oct 15, 7:30 PM
Center for Contemporary Arts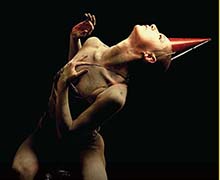 "electric ... riveting"
Variety
Enter the world of Ohad Naharin, renowned choreographer and artistic director of the Batsheva Dance Company. MR. GAGA, eight years in the making, captures the elusive beauty of contemporary dance and immerses the audience in the creative process behind Batsheva's unique performances. ... more ...
Sun Sep 25, 7:30 PM
Pre-film dessert reception at 6:45 PM with special guest Gaga dancer Amy Morrow.
Center for Contemporary Arts
Tue Sep 27, 5:15 PM
Post-film hors d'oeuvres reception at 7:15 PM with special guest Gaga dancer Amy Morrow.
Center for Contemporary Arts

One day only!
For int. and adv. dance students
Learn to connect body to imagination, deepen awareness of physical sensations, and expand the possibilities of movement options to engage their explosive power. "Gaga" instructor and Adjunct Professor of Dance at the University of Texas, Amy Morrow, teaches this class for intermediate to advanced dance students. more ...
Mon Sep 26, 5:15 PM
NDI New Mexico at the Dance Barns
with Gaga instructor Amy Morrow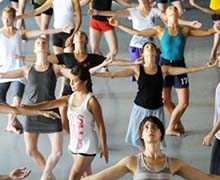 One day only!
No dance exp. needed
"Gaga/People" is a special workshop for those with no dance experience to learn Ohad Naharin's dance movement language, "Gaga". The class provides a framework for discovering and strengthening the body and adding flexibility, stamina, and agility while lightening the senses and imagination. more ...
Wed Sep 28, 9:00 AM
NDI New Mexico at the Dance Barns
with Gaga instructor Amy Morrow

Comings & Goings – News