Comings & Goings – Films & Events
CARVALHO'S JOURNEY coming to ABQ, July 25.
Don't miss THE PULITZER AT 100, coming August 6.
Pre-sales for HAROLD AND LILLIAN have started.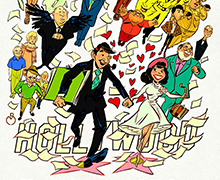 "... charming ..."
The Village Voice
Pre-film dessert reception!

Harold and Lillian Michaelson are two of the best-known names in Hollywood that you have likely never heard of. Their work left an indelible mark on classics by Alfred Hitchcock, Steven Spielberg, Mel Brooks, and more. Academy Award®-nominated director Daniel Raim gives us a behind-the-scenes look at the influential contributions of storyboard artist Harold and researcher Lillian. Their love story is tenderly told through a mix of love letters, film clips and interviews to paint a moving portrait of a marriage and to celebrate their talents. IT'S OUR END OF SEASON EVENT! ... more ....
Thu Aug 24, 7:30 PM
Pre-film dessert reception: 6:30 PM
Center for Contemporary Arts
Thu Aug 24, 7:45 PM
Pre-film dessert reception: 6:30 PM
Center for Contemporary Arts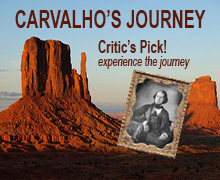 " ... breathtaking ..."
Wall Street Journal
Coming to the ABQ Jewish Film Fest!

It's a real life adventure story of the American West with a most unlikely character taking center stage. In 1853 Solomon Carvalho, an observant Sephardic Jew who had never saddled his own horse, accompanied the famed explorer John Fremont on Fremont's Fifth Westward Expedition and became one of the first photographers to document the far West. ... more ...
Tue Jul 25, 7:00 PM
JCC of Greater ABQ
with special guest Robert Shlaer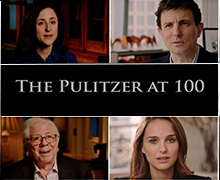 "How can ... it not inspire?"
The Denver Post
SOLD OUT - Wait List Only

THE PULITZER AT 100 tells the story of this prestigious prize through the riveting stories of the artists who have won it. Prize winners Carl Bernstein, Nick Kristof, Thomas Friedman, Michael Chabon, Junot Díaz, Tony Kushner, Wynton Marsalis, among others, share their experiences. Experts, including author James McGrath Morris, shed insight into the remarkable life of Pulitzer, the man. Raised in a Jewish Hungarian household, he came to America not speaking English and rose to the highest ranks of journalism. ...more...
Sun Aug 6, 5:00 PM
Q and A with guest author
James McGrath Morris
Center for Contemporary Arts